Study Russian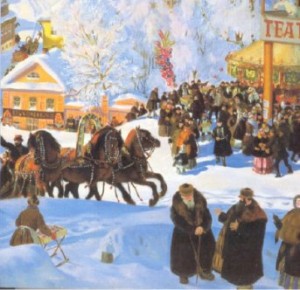 We express our deep dismay at the Russian invasion of Ukraine, which has become the deadliest conflict in Europe since WWII. We extend our sincere sympathies to the people of Ukraine and everyone who has suffered as a result of this war, many of whom are our friends, family members, and colleagues, and stand in solidarity with all who seek to bring peace and stability to the region. This ongoing tragedy, which affects our faculty and students personally as well as academically and professionally, underscores the importance of area studies and cross-cultural knowledge as a foundation for peaceful and positive international relations in a time when humanity faces global challenges that will require global solutions.
The U.S. Department of State has designated Russian a Critical Need Language, a designation which underscores the vital importance of Russian language and culture studies in today's world. Given Russia's major geopolitical role in world affairs and the fact that it is still the lingua franca in many parts of Eurasia and the former USSR, the need for Americans with a thorough grounding in Russian language and culture is high. There is a growing demand in this country for people with Russian-language skills in a myriad of areas, including international relations, politics, law, business, the sciences, and national security.
Our strong proficiency-based methods of teaching in tandem with the department's opportunities for study abroad in different parts of the former Soviet Union enable our students to excel in linguistic proficiency, intercultural competence, and intellectual sophistication. Many of our students double major in Russian and other disciplines, including history, literature, business, biology, computer science, and economics.
In addition to its focus on Russian language, the department actively engages in interdisciplinary teaching across the college and seeks to provide all students with a broader understanding of the cultural and ethnic diversity of the former USSR. This includes a much-needed reexamination of the effects of Russian and Soviet linguistic and cultural imperialism in Eastern Europe, the Balkans, the Baltics, the Caucasus, and Central Asia.