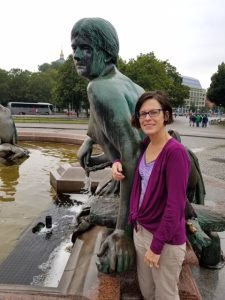 Associate Professor
Greene Hall
Email: howardal@wfu.edu
336-758-5867
A Pacific Northwest native, Alyssa Howards received her B.A. in German from Western Washington University and her M.A. and Ph.D. from Washington University in St. Louis.
She also did undergraduate coursework at the Technische Universität Braunschweig, graduate research at the Westfälische Wilhelms-Universität in Muenster with funding from a DAAD grant, and was a Fulbright Teaching Assistant in Bremen.
Her research interests center around mid-to late nineteenth-century Germany, especially related to ethnology, folklore, and the intersections between science and literature.
Related to these areas, she has published on German realist and naturalist authors such as Adalbert Stifter, Gustav Freytag, and Gerhart Hauptmann. She is also the Fulbright Program Advisor for Wake Forest University.
Away from the office, she is most at home across the street in the WFU gym and pool or on the tennis courts, where she aspires to become a mediocre singles player.